The Temperature of Your Home is Harming Everything Inside of It (Including Your Health)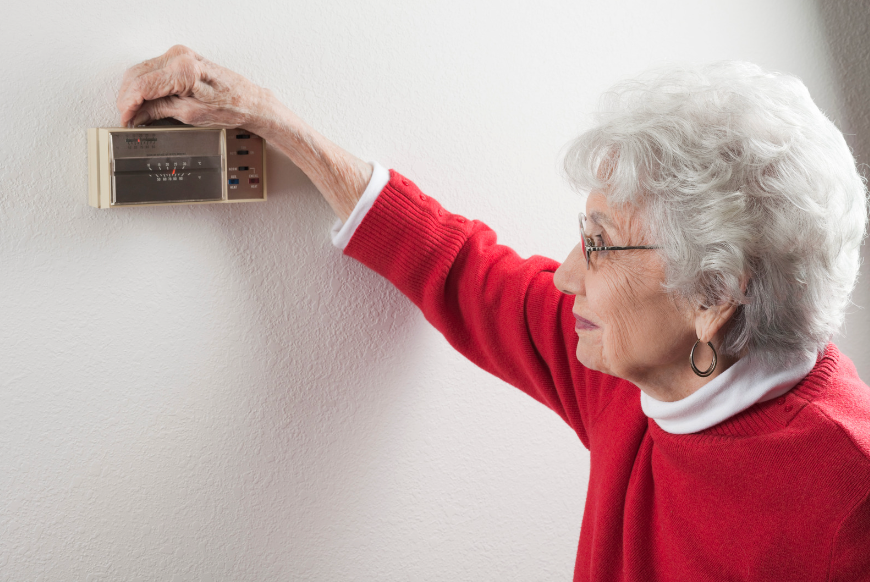 The Temperature of Your Home is Harming Everything Inside of It
(Including Your Health)
Have you ever wondered about the effects of different temperatures and humidity levels on aspects such as vegetation, our health, and the cleanliness of our homes?

Studies show that the temperature and humidity within our homes directly impact our well-being, the quality of the food we consume, and the air we breathe.

While many people with a thermostat on their wall believe they know the temperature in their home, the reality is different.

The thermostat on your wall typically only provides temperature readings for specific rooms and hallways in your house.

So, even if your thermostat displays a comfortable 72 degrees, other areas like the basement, garden, and additional rooms may be significantly hotter or colder.

Furthermore, most thermostats don't measure the humidity level of your home, a significant factor contributing to mold growth, sleep disturbances, and illnesses.
The Effects of Not Monitoring Your Home's Temperature/Humidity
Several harmful effects may be occurring within your home without your awareness:
Rapid growth of Mold, Fungi, and Bacteria within the inside surfaces. This can cause sickness, allergic reactions, and respiratory diseases if inhaled or touched.

Food can spoil quicker, due to an increased level of heat within your fridge, forcing you to spend more money on groceries.

If you're a gardener, chances are your crops/plants will take longer to grow due to not being in optimal temperature, leaving your vegetation looking lifeless.

Dry air increases the spread of viruses and sicknesses, meaning you have a higher risk of getting sick and spreading it to your loved ones.

Hinders the quality of sleep due to your body not being able to properly rest in a harmful temperature, which can lead to many problems like low energy.
After enduring these living conditions for years, you deserve to enjoy the benefits of living in a home with optimal temperature and humidity levels.
Monitoring Your Home's Temperature & Humidity Has Never Been Easier
At BALDR, we understand the significance of being in control of your home's temperature and humidity levels. Achieving a healthy living space with the right balance of ventilation and air conditioning is essential for your well-being. However, without precise knowledge of the temperature and humidity in and around your home, this becomes a challenge.
Introducing the BALDR WS0359, a wireless weather station equipped with three sensors and a monitoring system, allowing you to monitor the exact temperature and humidity within your home.
Here's why you'll love us:
Monitor temperature, humidity, and weather at up to four locations, indoors or outdoors.

Long-range wireless transmission covers multiple areas of your property.

Experience the utmost accuracy and precision, unlike traditional thermostats.

Effortless operation with user-friendly touch buttons.

Our setup instructions are straightforward.

Enjoy weather forecasts and additional features like alarms and calendar functions for added convenience.

Rest easy with our 5-year warranty, offering peace of mind.
If you're serious about creating a healthy environment, eliminating surprises from weather conditions, and seeking convenience and simplicity, now is the perfect time to own the BALDR WS0359.
Take it From our Customers
⭐⭐⭐⭐⭐
"Perfect for what I intended to use it for. Love the 3 sensors... Put one in the attic, one outside, one in the far bedroom... Humidity is very important to monitor to lead a healthy life. With this product, I now have a good balance on my ventilation and air conditioner systems…"
— Robert Nolan
⭐⭐⭐⭐⭐
"Bright, adjustable display, clear setup instructions, downloadable color user manual. Used the device to find out that my refrigerator temp was 39-40 degrees due to overstuffing it should be at 38 max. This replaced an older station and this one is much better, especially with 3 remote sensors."
— Chester P.
⭐⭐⭐⭐⭐
"Love the BALDR weather station. Keep it by the sink in my kitchen and have just the info I need at hand. The temp outside, some info on the conditions too! Comes with extra sensors so I can keep track of temp of different areas of the house as well. And bonus it shows the time. All around useful device."
— Cheryl